Mahalaxmi is mentioned in many Puranas. The idol of the Devi is made of precious stone, weighing about 40 Kgs. It contains mater mixed with Hirak bits. This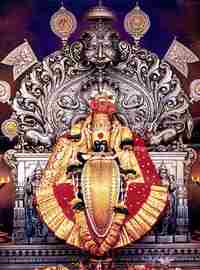 throws light on its ancientness. The form resembles the out-side of Shiva-Ling. It is standing on a stone square, in which Hirak & Sand are found. A lion stands behind. At the middle, there is a natural "Padma-Ragini" (Lotus). The idol is four handed bearing a cane sword & shield. Down the right hand holds "Mhalung" (A kind of fruit) and the left holds dish of "Pan". There is a crown on head, which is overshadowed by Sheshanag (Mythological Cobra with hood, the bed of lord Vishnu). According to research it is 5-6 thousand years old. Since 1000 B.C. the Mouryas ruled, since 30 A.D. Shaliwahan ruled, when in 109 A. D. Raja Karnadeo came from Konkan to Kolhapur, this idol was in a small temple.
Karnedeo cut down the surrounding forest and brought it to the light. The idol is placed in a smell about dwelling After the 17th Century, great persons visited the temple and day by day the Goddess became the Deity of Maharashtra Round about there are 35 small or big temples and 20 shops. The Mandir which is build after Hemandpanthi style, has 5 tops. Attached to the original Mandir is a pendal called Garud-Pendal.
Shejarati' is done at 10 p.m., when milk with sugar is offered. Aarati is done in the bedroom and 'Nidra Vida' song is sung. Then the daily routine is closed along with main & sub gate. Thus Aarati is done 5 times daily. Mahakali, Matuling, Shree yantra, Maha Ganapati and Maha Saraswati are also offered Aarati &. Naidedya. Every Tuesday to Friday, Aarati seats increase. Arati-visit is given to all srnall & big 87 temples. There are different groups of devotees attending one or more Aaratis. Their ratio is approximately 183 daily, every Aarati. Akarati, Pancharati, Kapurarti are different Aaratis used of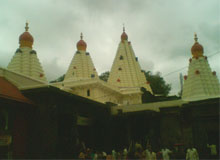 which are silver and the last is brass. Daily Routine in Mahalaxmi Mandir The 'Aarati' ritual is most important. Daily at 4-30 a.m. when the Mandir is opened, Aarati is performed after the worship of the idol's feet This is called 'Kakadarati.' Devotional songs in 'Bhup-Rag' are recited at that time. At 8-30 a.m. Mahapooja occurs followed by 'Mangalarati.' At 11-30 a.m., worship with fragrant flowers & Kumkum is done for the devotees camphor is burnt and 'Naivedya' (Rich dishes) is offered. If there is no Mahapooja from devotees, milk instead of Panchamrit (milk, curds, sugar, ghee & honey) is spill on, the feet and then Aarati. This process continues till about 2 p. m. Then there is 'Pooja' with ornaments. In the interior of the Mandir, Vedic hymns are chanted. After 7-30 p.m., after ringing of bells, 'Aarati' is done. This is called 'Bhog -Arati.' Every Friday, 'Naivedya' is offered to the Devi at night. After Aarati, ornaments are taken off and returned to the treasury.

Navratra is a grand annual festival. During these nine days from "Ghatasthapna" to "Khandenavami" and "Dasara" the Idol of Goddess is decorated as various divine personalities. Devotees form all over world visit Kolhapur during this festival. Special lightings are made for this festival in and around the temple. Every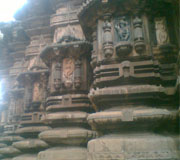 evening in these days "Palki-Pradakhina" (procession) is taken around the temple. Police band and traditional musicians join the same.
Besides these Aratis in the Mandir an extra one is done at the festivals like Tryarnboli Fair, Rathosava, Ashtami Jagar, Eclipse, Gokul Ashtami, Kiranotsava etc. There is a tradition to do special Aarati when Shree Shankaracharya and Shreeman Chhatrapati pay a visit to the temple.
The construction of this temple is made such that every year on fixed days the sun rays reach directly on the idol of Mahalaxmi glorifying the divinity of the Goddess. These days are celebrated as "Kiranotstav". This super-natural effect is not seen anywhere else.
Blowing of Conch, Ringing of bells & Drum beating is a unique attribute to all the prayers made at Mahalaxmi Temple.