Kolhapuri Misal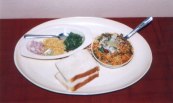 Kolhapuri Misal is one of the famous dishes of Kolhapur. Hot and Spicy are the words which describe the dish to certain extent.This is a delicious dish. It is not a snack but a medium diet. Anybody who wish to have a variety of food, will definitely like this dish. For preparation of the dish confectionery items are preferentially used. Chivada, Shev, Papadi are the indigents of dish. A thin curry covers for all confectionary items. For making it tasty ginger, garlic, mint is also used. The dish is accompanied by a slice of bread. Some chopped onion along with lime makes it even more mouth-watering. Tasting it with the bread and enjoying the "Kat" (curry) is a craze in Kolhapur. In every hotel this dish is available but a few places in town are renowned.
Tambra/Pandra Rassa

Every Culture has a special food and cuisine attached to it. In case of Kolhapur its the Non-Veg that makes a mark as a special cuisine. Kolhapur has a some good traditional dishes prepared from "Mutton" (goat meat) which are very tasty and delightful.
" Pandhra Rassa " the white curry is a liked starter at Kolhapur. A Soup like dish of water used to boil the "Mutton" along with spices such as coriander , ginger & garlic etc. This is a very tasty pre-food item. Apart from taste it has certain medicinal use as well. This "Rassa" is recommended for cough and throat related ailments. This is a part of a well-know duo curries. the other one is termed as "Tambra Rassa"
"Tambra Rassa" the second starter of the duo. This is a curry prepared using red chilly powder to make it appear "Tambra" redish. Made in almost same ways as Pandra Rassa this type of curry is more famous within the rural area of Kolhapur. After these starters comes the special roasted mutton.
"Roasted Mutton" is a special variety of non-veg dish prepared extensively at Kolhapur. The special recipe of this mutton makes it a unique disk attributed to Kolhapur. Different varieties of this dishes are prepared with different spices. One such famous type is "Ghaati" Mutton. These various dishes along with "Bhakari" or "Chapaati" constitute the Kolhapuri Taat.
.