This temple is one of the 12 Jyotirlingas. This is also called Kedarnath and Wadi Ratnagiri. Mythology says, Jotiba helped Mahalaxmi in her fight with the demons. He founded his kingdom on this mountain. He belongs to the Nath cult. He was born in the hands of Vimalmbuja, the wife of the sage Pougand, on Chaitra Shukla 6. This God is avtaar of Guard (Bhairav). Jotiba killed demon Ratnasur who troubled civilians. With this incidence name of village was Wadi Ratnagiri. Instead of taking such long name public accepted this place as the name of God 'Jotiba' and this name became famous.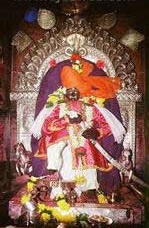 It is situated to the north of Kolhapur in the deep, surrounded by green mountains and black precipices. The original temple was built in 1730 by Navajisaya. It is 330' high from sea-level. The interior is ancient and the idol is four-handed. There are other temples and Light-towers. On Chaitra Poornima (appr. In Mar-Apr.) a big fair is held, when lacs of devotees come with tall (Sasan) sticks. Due to scattering of 'Gulal' the whole mountain is turned pink.
Decorated bamboo sticks called as SASAN KATHI are attraction of this fair. Not less than 2000 sticks are traditionally involved in fair. Sequence of these sticks is a convention. It is not changeable. A colorful procession of SASAN KATHI is main attraction of fair. Devotees from abroad and various parts of country take part in this procession.
Except this fair there are some other celebrations in temple. Sunday is a preferable visiting day. Naturally it is a crowded. Devotees from local areas prefer other weekly days except Sunday. On the full moon day a Palkhi procession is carried out.

There is other temple of goddess 'Yamai' on the northern part of hill. She is believed to be sister of Jotiba.

Sunday is sacred to Jotiba. In the last few years much improvement has been made by the people and on the government level. A new scheme Plaza Garden has been under taken.