This is not time to get eyes filled with water of memories of honorable Bala Saheb this is the time get starting for fulfilling the dreams of Shivsena of making the state assembly colored with saffron and be ready and well prepared for 2014 election. This was the essence of speech of Shri Udhav Thakre [Working President of Shiv Sena] at Kolhapur . He was addressing huge gathering of party office bearers from south Maharashtra.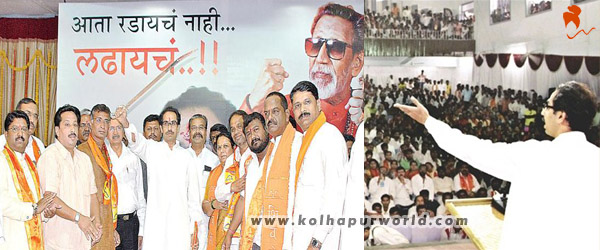 This was the first public meeting of the party after the heavenly abode of Bala Saheb hence this was a natural thing that not only the party leaders and workers but also the political opponents were keeping a close watch on the happening during the Kolhapur visit of Shri Udhav Thakre.
Kolhapur people still have memories of huge public meeting of Bala Saheb at the historic Bindu Chowk, and have a lot of affection and respect for the Bala Saheb, people of Kolhapur were visiting Matoshri and party office in Mumbai after the death of Bala Saheb but as this is not possible for everyone to visit Mumbai and this force me to visit Kolhapur. Shri Udhav Thakre also stated that this is not a political visit so this is quite possible that political analytics might not get what they are hoping, I am here at Kolhapur just to meet with Shiv Sainiks which are part of our family.
Shri Udhav Thakre along with wife Sou. Rashmi Thakre gets blessings of Goddess Mahalaxmi before going for the program held at Rajrishi Shahu Smarak Mandir. He was late by more 90 minutes that the schedule start but still there was not a single seating space vacant, presence of women party workers touched a new record and they were also front leaders for the slogans. Shri Udhav Thakre was felicitated by presenting coconut, shall and Silver sword.
Shivsena's district office bearers and workers such as Shri Vijay Devane, Shri Rajesh Kshirsagar, Dr. Minchekar, Chandradeep Narke, Gajanan Babar, Subash Desai and others were present on Dias during the program.
Comments
comments