Kolhapur, 9 June: Historic treasury at Mahalaxmi Temple of Kolhapur which was unopened from 40 years was opened and calculated.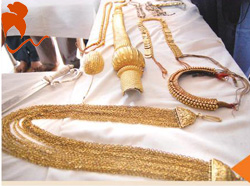 Since Last 1300 years various citizens, appraisers, devotees do offerings to Mahalaxmi Devi at Kolhapur and the traditional and historic treasury is been enriched. Being a traditional aspect from many centuries, this safe or treasury was opened by the temple committee and the jewelry which it contained was cleaned and calculated.
The jewelry of first safe was analyzed and was of the times of Shivaji and Muslim period. Sources said that these historic jewelry was of 8 Crore, 29 Lakh and 8 Thousand Rupees as evaluated by Goldsmith Purushottam Kale. It was again cleaned and maintained. It will take time of 8 more days to complete evaluation of all the treasuries. Temple Committee Secretary Hanumant Suryavanshi informed that this evaluation is done for the first time.
Evening, Temple In-charge President District Collector Lakshmikant Deshmukh visited the evaluation place. Every year lakhs of devotees visit the Mahalaxmi temple and do offerings and take blessings of the Devi. Also, 'Yatras' are also organized every year. The treasuries are stored with donations by the devotees.
These treasuries were not opened form 40 years. Here, South Maharashtra Devasthan Samitti Secretary Hanumant Suryavanshi, Balasahev Kupekar, Members Padmaja Tivle, Pramod Patil, Hiroji Parab, Pratapsinh Jadhav, Shivaji Salvi, Mahadev Khandekar, Mahesh Khandekar, Suresh Gaikwad and many other important people were present.