Thursday 17-May-2012, a grand meeting was held on discussion of Shivrajyabhishek event which is held on 6-June at Raigad every year and the website www.shivrajyabhishek.com providing related information and galleries was launched by the hands of Chhatrapati Sambhajiraje and Akhil Bhartiya Shivrajyabhishek Samiti. The website is designed by SunnyZ World, leading company in its field.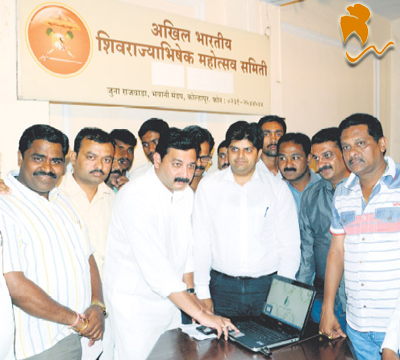 Many guidelines and followings were shared by Sambhajiraje chhatrapati on discussion of Shivrajyabhishek day (6-June) celebrations at Tuljabhavani Mandir of Bhavani Mandap, Kolhapur yesterday. Coming 6 June, grand event will be organized at Raigad for celebrating Shivrajyabhishek Day.
The main leaders of this event are Chhatrapati Sambhajiraje and Akhil Bhartiya Shivrajyabhishek Samiti. Sambhajiraje said that the day has great historic and traditional importance and it will be celebrated with great enthusiasm than before.
He also said, there is utter need that Govt. should observe, maintain and develop various forts of Raigad, Purandar and Sindhudurg and Chhatrapati Shivaji Maharaj Jayanti is celebrated thrice, instead celebrate it for 365 days. BJP Head Mahesh Jadhav said that one date should fixed by the government and Shivaji Jayanti should be observed globally the same. Historian Indrajeet Savant also shared his views and guidelines.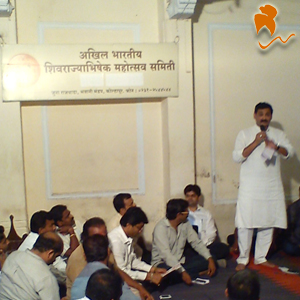 Here with Chhatrapati Sambhajiraje, Corporator Adil Faras, Dr. S. B. Pawar, Jaykumar Shinde and Shrikant Kadam spoke their words on shivrajyabhishek. Corporator Vijay Suryavanshi, Sunnyzworld's Premanshu Manghirmalani, Prakash Gavandi, Bajrang Group's Mahesh Ursal, Uday Ghorpade, Sanjay Pawar, Chava Group's Raju Sawant, Fatehsinh Sawant, Satish Ladge, Ganesh Ghodke, Sahyadri Pratisthan's President Hemant Salonkhe, Ram Yadav, Ananda Patil and other Shivbhakts were present.