Hamidwada Sugar Factory Directorship Elections results are announced on Thursday June-14. Sadashivrao Mandlik group defeated Mushrif group for the second time.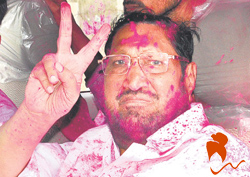 Sadashivrao Mandlik group was the current holder of the positions of 'Hamidwada's Sahkari Sakhar Karkhana' and will continue to hold it more. Nearly 94 percent of the total voters on Tuesday exercised their franchise in peaceful poll on Tuesd
ay. Results will be declared on Thursday.
Voters queued up in front of the polling booths in large numbers at the Sugar Factory of Hamidwada – Kagal, Kolhapur to elect Director Body of the governmental sugar factory. These elections are held once in every five years.
From 17399 voters 16097 practiced their votes with an average of 94 percent votes. The votes were counted at Ramanmala of Kolhapur. The rule of Sadashivrao Mandlik will continue and citizens and supporters had a great bash yesterday.
Elections were up for 22 seats out of which Mandlik group acquired all 22 with 100 % victory. The supporters were waiting for the results very eagerly, were very happy and had a great bash celebrating the victory over Mushrif group.