Maharashtra Higher Secondary Education has declared 12th (XII) HSC Board Exam March 2012 results online at 13:00 – 25 May 2012. Kolhapur District is proud with average of 82.15% and Girls continued to outperform boys in 12th examinations conducted by the state government.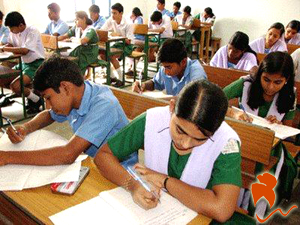 Kolhapur has 2nd Highest Average throughout the State. The results and certificates will be given to students from 3:00 pm, 2 June. The results of Kolhapur Center were declared online by the hands of President Bhimrao Kamble and Secretary V. B. Paimal and are available at the Global Maharashtra's Portal – mahresult.nic.in
From Kolhapur division 43,437 students from Arts, Commerce and Science stream had applied out of which 43,087 appeared for examination and 34,938 have passed from 226 Affiliated Colleges. In all, 88.63 percent girls and 76.93 percent boys passed the Higher Secondary Education (HSC) exam.
February-March – the anxiety levels were sky-high..! With board exams round the corner students, parents and teachers had got restless. Board exams not only test the knowledge levels of students but are also increasingly proving to be tests of their mental grit-or their ability to withstand stress resulting from extreme situations. Students are always expected to deliver results that match-up to the standards set by their parents, teachers, schools, relatives, peers etc.
Special inspection was done this year so that no student takes cheats and other material for coping in the examination hall. For inspection 7 external examiners were invited but they failed to find anyone with cheats.
All the students can check these results online through a website mahresult.nic.in, Hard copy results will be available in their respective colleges at 2nd June.
For better understanding and to avoid inconvenience, Kolhapur center have launched a 24 hour Helpline from 25 May 2012. As announced the students can call — Dr. J.K.Pawar – 9420586622, B.M.Patil – 9822550239, Sampatrao Gaikwad – 8007059084, Arun Kamble – 2620240, D.I.Thanekar – 9890972463, M.N.Torgalkar – 9850889799.